Order Pocket Crosses
Purchase in quantities of 100-10000. You can use PayPal,  or enclose a check for the amount you wish to purchase.
(If you don't have PayPal you can still use credit card)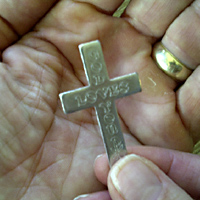 The prices include mailing expense and handling fees for delivery anywhere in the continental USA. Shipments are from La Center, WA.
Make the check payable to:
P.C.M.
P.O. Box 248
La Center, WA 98629
Phone: 503-320-9992
Email: info@pocketcross.org
We are a nondenominational and non-profit venture. Its sole purpose is to encourage others to open the door to learn about Jesus'